How is Land Priced?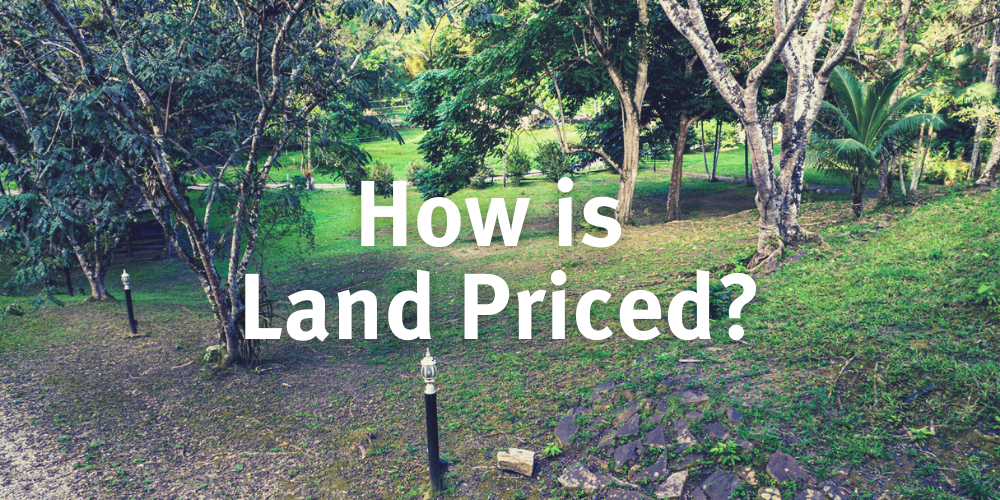 With many land developments and listings at various price points on the market right now, purchasing land could be a quick and easy option to get into investing. But, when it comes to unimproved property (land), prospective buyers like to understand the basis for pricing and what their money can buy.
As Real Estate professionals, who are exposed to the market every day, and with the knowledge of our Valuations Department, we are able to use comparables and recent trends to assist in prudent pricing. However, for people outside of the Real Estate ecosystem, pricing of land may be a mystery.
Based on price per square foot and multiplied by the land area, the total land price of one parcel can sometimes scare prospective buyers into sticker shock. Hence, we delved into various aspects that contribute to the price per square foot of land. While this is not an exhaustive list of factors, the aim is to assist the market in understanding how land for sale is priced.
Like improved property, the location of the land, demand and supply and the status of a specific neighbourhood or community can greatly impact the price per square foot. For example, land in gated communities or established neighbourhoods is priced at a premium due to the investment by the developer or owner to ensure the land is ready to build. Likewise, land in densely populated areas is priced differently to burgeoning zones.
When you are ready to build, whether it's on commercial or residential land, you are legally required to seek permission to develop by the relevant authorities. At times, landowners may sell land with existing Town & Country approvals, which is less stress for the new owner, but it comes at a small price. Additionally, utilities such as water, electricity and sewage must be installed which can be a hassle, and comes at a cost. Land that's truly ready to build comes with all amenities but also comes at a higher price tag.
The topography of a land site can make or break a transaction as we sometimes underestimate the degree of investment required. Whether the land is gently sloping, flat or hilly, it can inform the amount of funds required to prepare the land for construction. Retaining walls, backfilling or levelling all require substantial investment. These costs are taken into consideration when pricing land for sale as it's all passed onto the buyer.
Residential, commercial and agricultural subscribe to different zoning conventions and determine the proper legal use of the property. According to where the land is located, there may be specific size and design requirements guided mainly by Town & Country. Areas like Woodbrook, Aranguez and Chaguanas have a mix of commercial and residential land or residential and agricultural land and two adjacent lots of land can be priced vastly dissimilar just based on the zoning criteria.
Can we put a price on everything? Sometimes, the intangibles like views, safety, and superior access can push the price per square foot to a premium. For instance, land on the boundary of one of Trinidad's larger golf courses, like Infinity Greens, Trincity will fetch a greater price per square foot than land in other pockets of Trincity, simply due to its unique locus and what that can mean for that niche buyer.
Need more information on land for sale pricing? Connect with any one of our Agents here.