Before You Sell Your Property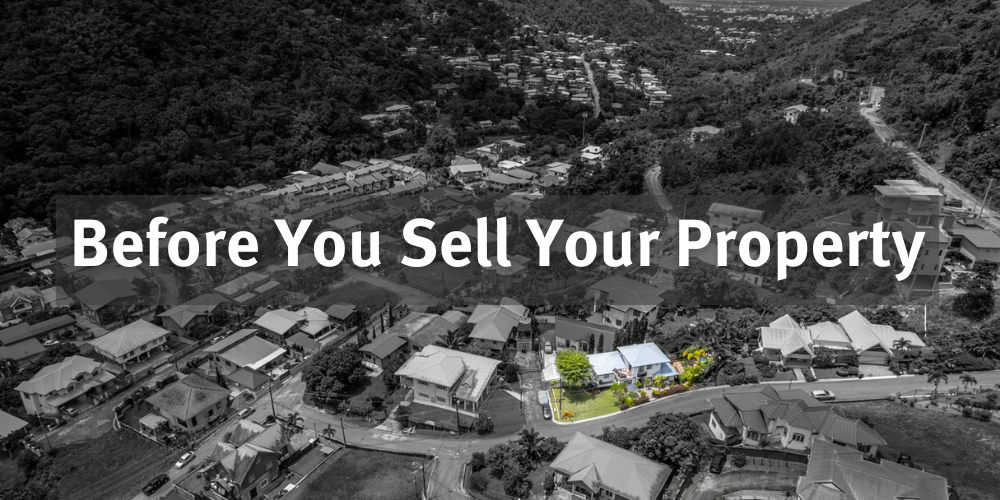 Selling a property can be a momentous event in your life. It is not merely a transaction but a complex process that requires careful planning and attention to detail. Whether you're parting ways with a beloved family home or divesting an investment property, the decision to sell is a significant one. It's a journey that involves not only financial considerations but also emotional attachments and logistical challenges.
As vendors, you are in a unique position where you have the power to shape the future of your property. The decisions you make before listing your property for sale can greatly impact your experience and the outcome of the sale. To navigate this process successfully, you need a well-thought-out plan and a clear understanding of the steps involved.
Here's a list to get you started on the right track:
Define your motivation to sell
Selling a property can be an emotional rollercoaster. Start by defining your goals and motivations for selling. Are you looking to liquidate an asset, downsize, upgrade, or cash in on an investment? Is the sale time-sensitive, or are you simply gauging the market's appetite? Understanding your objectives will help you detach from sentimental attachments, enabling you to make objective decisions throughout the process. A motivated seller not only instills a sense of urgency into the sale but also plays a pivotal role in shaping the overall sales strategy.
To ensure a swift sale at an optimal price, it's crucial to present your property effectively. This includes essential repairs, improvements, and enhancements aimed at appealing to potential buyers. Start by focusing on aspects like curb appeal, decluttering, and depersonalization. Foster a sense of spaciousness and warmth indoors by removing personal items and excess furniture, while also addressing visible issues like leaky faucets, broken tiles, or peeling paint. Maximize natural light and use appropriate indoor lighting to create an inviting ambiance.
It's a nuanced balancing act, so be cautious not to overspend on renovations, as such expenses may not yield a full return on investment during the sale. Always keep in mind that the ultimate objective is to present a pristine, well-maintained space that enables potential buyers to envision themselves living there.
Collect all relevant documentation, including property deeds, titles, past valuation reports, and any other paperwork related to your property. This will facilitate a smooth transaction.
Most people have an idea of what their home is worth. However, it's easy for that financial investment to turn into a sentimental dollar value that may differ from what the market is willing to pay and the market changes constantly. Therefore, before you list your dream home with a wish price, it's best to consult with a Real Estate professional, like a Valuer or Real Estate Agent, who can advise on the market and the value of your home. Remember, a valuation or opinion is based on market factors and not personal ones.
Choose the Right Real Estate Agent
Choosing the appropriate real estate agent is a critical decision. Look for experienced professionals who are knowledgeable about your area and have a track record of successful transactions and comparative sales. As property professionals continually exposed to the market and the sentiment of buyers, we're able to advise on how to improve your property to make it more attractive or marketable, your negotiation power based on the asking price and how sellable your listing is, among the rest of the supply.
The list price or asking price is usually the price that the vendor/owner sets for the property, and that price is used in the marketing and advertising of said property. However, in this industry, the consensus is that a well-priced property can sell within 6 months or less, and even incite competitive bidding, ultimately resulting in a higher selling price. Hence, accurate pricing is essential. Your real estate agent can help you determine the right listing price based on market conditions and comparable sales in your area to attract potential buyers.
Be Prepared for Negotiations
Anticipate negotiations with potential buyers. Be clear about your bottom line and be ready to make compromises to reach a mutually beneficial agreement. Remember that the market is constantly changing. Therefore, if the offer on the table does not match your asking price, it may be foolhardy to focus solely on your opinion of value or emotional attachment, especially if the transaction has reached an impasse over a marginal number. Let your real estate agent help you with the hard decisions.
At Terra Caribbean, we're here to ensure you fell comformtable and confident to make informed desicions.
For more advice on selling your property, feel free to start a conversation with any of our agents!