Go for Gold This Weekend!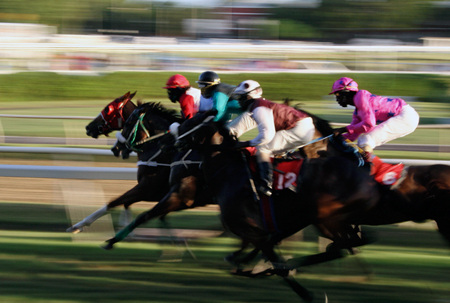 The sound of hooves on the turf at the Garrison Savannah are getting closer as the 2018 Sandy Lane Gold Cup is just around the corner! On Saturday March 3, the six-furlong track will see trainers, jockeys and their formidable thoroughbreds from around the world grace its grounds to take the coveted champion's cup - the Gold Cup - from their local rivals.
With over three decades worth of Gold Cup action under the island's belt, the event has once again been billed as the perfect family day out. And, in addition to this, the entry list promises to deliver a nail-biting day of racing - all in part thanks to the continued patronage of its prestigious sponsor, the Sandy Lane hotel.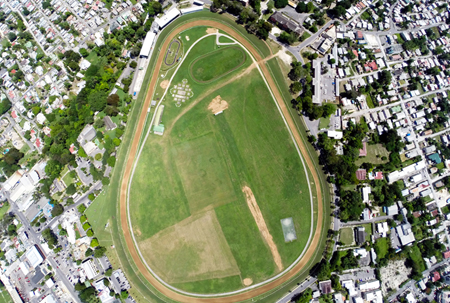 Aerial view of the Garrison Savannah
But, as throngs of patrons file in for the day's event, they will in fact be entering the island's only UNESCO World Heritage Site - a designation bestowed upon the area thanks to its historic and cultural significance. The history of the place as we know it began when the British forces established their headquarters in 1780. Besides being known as the largest garrison across the British colonies during the 18th and 19th centuries, the area housed several servicemen and military officials that temporarily called the island home.
But, as the tide of the 18th century turned, and the harsh sentiments of war subsided, a more recreational focus thrived. In this spirit, the forces housed on the island began to pit their horses against each other just for the fun, and like that, the tradition of horse racing at The Garrison was born.
Therefore, besides the pinnacle event, horseracing lovers can also take in some of the island's horseracing action any time of the year! This year's sporting calendars include several weekends of intense racing action at the nostalgic venue, and with a schedule that runs from January through December, loyals within the fraternity make their pilgrimage to the horseracing Mecca so that they never miss a beat when it comes to exhilarating racedays!
For more information on the Sandy Lane Gold Cup and all other horseracing events, visit www.barbadosturfclub.org.