60 years of Independence, 60 years of Real Estate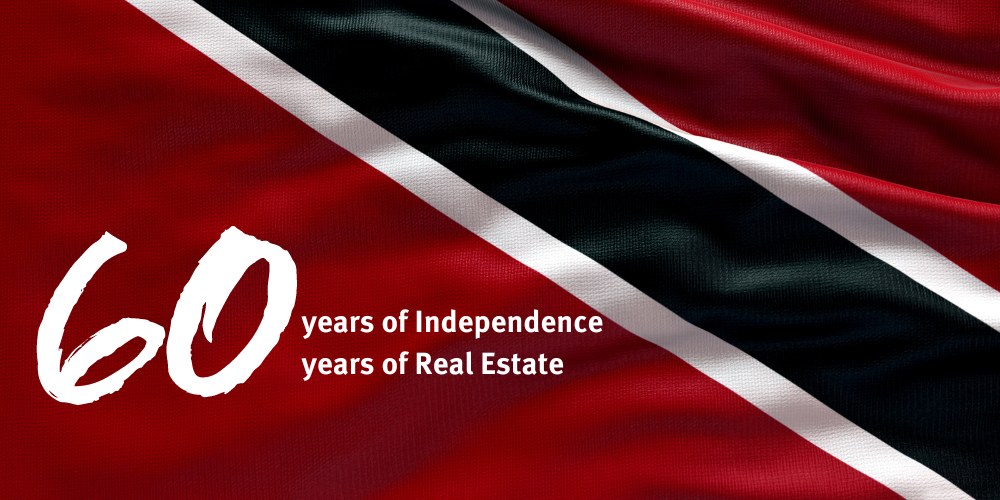 From the economy to technological advances and how we do business, Real Estate in Trinidad and Tobago has evolved from the 1960's to today. The cyclical nature of T&T's economy post-Independence has spurred waves of development, which have in turn stimulated a flourishing industry to what it is today.
In the 1960's, T&T had a population of 860,000 to 940,000, an oil rich economy with steady GDP growth. Concurrently, the Real Estate sector was served by a few agents scattered around the country, with no real rules or regulations except for the standard commission being 5%.
However, by the mid-1970's to 1980's, oil prices increased, marking a period of rapid development and superficial wealth in T&T. With excess liquidity in the monetary system, government expenditure skyrocketed; this resulted in double-digit inflation, reaching as high as 22% in 1974.
Thus, residential sales exploded as "Joe Public", replete with newfound wealth, began flipping properties and becoming overnight millionaires. With the median price of homes rising to a record high of TTD$1.1m by the late 1970's, the Real Estate market followed. Across the usual intersection of landowner/developer/real estate agent, business was transacted via word of mouth using a phone, a telephone directory, and a classified ad in the Trinidad Guardian.
During this time, developments like Diamond Vale and Trincity came to market to satisfy the demand for housing. The first townhouse and condominium complexes also came to market as a novel style of living in Trinidad as the trend and appetite of housing shifted.
But by the early 1980's, oil prices plummeted, and T&T tumbled into a deep, dark recession. During the years of 1983 to 1989, GDP fell by 30% and the average cost of a property also contracted to less than half of its 1970's average.By December 1985, the Trinidad and Tobago dollar was devalued by 50%, in an attempt to boost export competitiveness. However, with stringent fiscal policies implemented, new homeowners could not endure another burden on decreasing salaries. As a result, many homeowners returned the keys to their properties and reneged on bank loans and mortgages.
Roughly 9 years later, with another oil boom beginning in the mid 1990's, T&T's economy made an about turn with an average GDP growth of 3.7% and experienced another wave of development. As residential developments expanded throughout the country, so too did the Real Estate industry once again. Housing prices increased again from the mid to late 1990's to the mid 2000's to an average of just over TTD$1m.
By the early 2000's, a "construction boom" struck the nation and savvy investors graduated from residential into the realm of commercial development. Gone were the days of 5% commission and 3% was now the industry standard. Thus, Real Estate in T&T revolutionized and became closer to what it is today.
During this period of growth, 2000 to 2007, close to a dozen commercial buildings were developed in Port of Spain alone, increasing the supply of office space in the burgeoning capital. By the late 2000's, the commercial development, partially spurred by the oil boom and the burgeoning petrochemical industry, initiated the growth of the expat market and thus high-end rental housing for this segment, especially in the North-West of Trinidad. Consequently, during the 2000's, housing prices surged and achieved an average of TTD$1.3m.
Unsurprisingly, by 2012, there were over 500 real estate agents or agencies, which drove the industry into fierce competition. However, in late 2015, in response to a worldwide decrease in the demand for oil and by-products of oil, large corporations of the petrochemical industry downsized operations globally, as well as in Trinidad, thus sparking another recession and leaving a void of vacant upmarket office space and empty expat rentals in their wake.
Exacerbated by the pandemic in early 2020, many businesses contracted or closed their doors, leading to widespread job loss, diminished spending power and decreased economic activity, further contracting the commercial market. However, though the commercial real estate market was deflated, the residential market remained buoyant with new trends like staycation homes and cheaper starter homes emerging throughout 2020 and 2021. However, with inflation standing at 4.6% in 2022, we expect housing prices to increase again.
Now, T&T stands with a population of 1.4 million and counting, with diverse Real Estate needs and given the pandemic, varied wants. In 60 years of T&T's Independence, Real Estate as a service industry is rapidly thriving, and we have come a long way. We still have a long way to go to raise the bar. With a younger buying market, the demographic of the Real Estate client has again changed. The advent of expansive websites, social media, and instant messaging apps has transformed the landscape of marketing and advertising. For end-users - the buyers and sellers that are players in this now dynamic market - the speed and accessibility of information are of utmost importance.