Trending Areas in 2022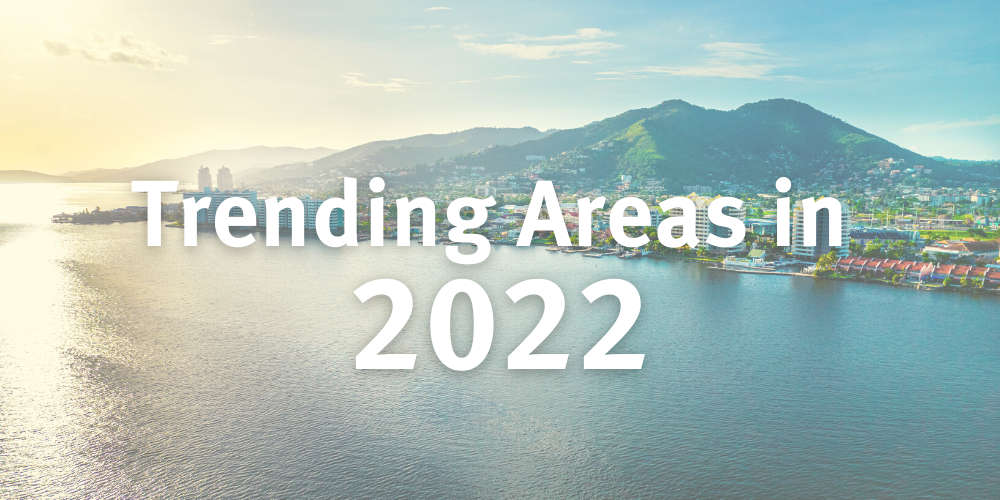 One thing the Coronavirus pandemic has done in the last two years is shift our focus from the hustle and bustle outside of home to our work and recreational space at home. As we close a second year of remote work and homeschooling, quality of life has become paramount to most. For some, a lush environment, more floor area, or a further distance away from the rush is worth moving outside the West.
What does this mean for Real Estate? As always, the market is dictated by those transactions that are happening now. Today's transaction becomes tomorrow's comparable data. With more developments emerging in the below areas, catering to the needs of the stay-at-home individual and a general acceptance of homes and alternative lifestyle outside the West, we're looking out for more movement in the following areas this year:
Santa Cruz has been an established area for decades and undoubtedly has its following. However, in recent years, Santa Cruz has developed more into a health and wellness hub and has almost risen to cult status with its nature-forward shops and amenities. With an abundance of untouched land, Santa Cruz has afforded developers, large and small, the opportunity to provide modern homes surrounded by lush greenery and cool valley air. Additionally, it does not hurt that Santa Cruz is wedged between Maraval and San Juan, accessible from both directions and is 20 minutes from Maracas Beach.
Speaking of Maracas, in the last two years, we've seen a resurgence of interest in Maracas homes and land. Tucked away from the East-West corridor, Maracas is another lush enclave in and of itself, shrouded in the thick fog of mountain air. Whether it's an apartment or townhouse in a gated community or a well-appointed home in an older neighbourhood, Maracas Valley has the aura of family and greenery rolled into a unique area.
Just past Trincity and before Arima, D'abadie and Piarco lie on either side of the Churchill-Roosevelt Highway. This area benefits from surrounding amenities along the highway in Mausica, the retail hub of Trincity and ample road networks connecting residents to all necessities without ever having to head West. In addition to beautiful, well-appointed neighbourhoods like Signature Park, The Foothills and Bregon Park, there are many other small townhouse developments in serene pockets of this area.
Although part of the borough of Chaguanas, Cunupia is an area onto itself and has seen development in recent times due to its proximity to Chaguanas. However, it is not as commercialized, and offers quieter large available land space, perfect for bourgeoning residential neighbourhoods. Developments like Welcome Estates, Highbury Park, Riverdale Gardens, St. Anthony's Park and Aberdeen Park are all alternatives for persons looking for well-priced homes that are accessible from two directions: the Uriah Butler Highway and through bordering towns, St. Helena and Caroni.
Interested in these areas? Connect with our agents to view properties in these areas and throughout T&T.