Your First Offer is Your Best Offer!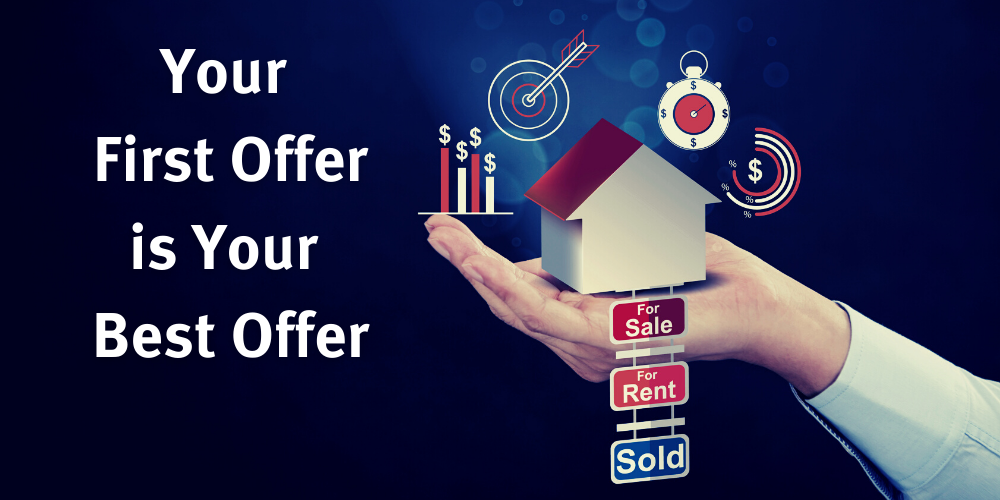 Let's set the scene!
It's been a rough two years and you've finally decided to downsize your Real Estate portfolio as soon as possible. You've done your due diligence, spoken to a few Real Estate agents, even paid for a valuation report, and determined a fair asking price.
After a few weeks of market exposure, your agent calls with an offer below asking, but you're torn between accepting a lower-than-expected price and chancing receiving a better offer.
Here are 3 solid reasons why Your First Offer is Your Best Offer:
The market has changed! – The pandemic has shifted the Real Estate market and also buyers' expectations. In an article earlier this year, we discussed the difference between price and value and how buyers and vendors perceive each quite differently. While your property may be valued at a certain amount, the price the market is willing to pay is dictated by buyers. Thus, the first offer is an indication of what the market is inclined to pay, and chances are, that first offer is the most accurate estimation.
Listings get stale! – People always expect discounts for products sitting on the shelf for too long. The same goes for Real Estate. When we list a property, through an aggressive push to the market, we try to gain as much interest as possible in the shortest period of time. This is usually when the excellent offers come to the table. However, as time progresses, the listing becomes old, interest wanes and you may either attract an offer much lower than asking by a vendor looking for a "discount" or reduce your asking price to garner new attention. The more time the listing sits on the market, the less bargaining power you have as the vendor.
Refusal of a good offer sends the wrong signal… - In the Real Estate industry, the consensus is that a well-priced property can sell within 6 months or less. Therefore, as Real Estate Agents, once we're hired to add a listing to our portfolio, we advise on price, market the listing, and bring offers within the stipulated timeframe. As such, refusal of a good offer indicates to agents, and buyers alike that you may not be motivated to sell the property or that you're unwilling to negotiate. Thus, this risks the chance of new buyers bringing offers or worse, your agent placing your listing in the low priority pile.
For a transaction to be successful, all parties should be working in unison to sell the listing, including the vendor. The Real Estate Agent wants to sell the listing as much as you do. As property professionals continually exposed to the market and the sentiment of buyers, we're able to advise on how to improve your property to make it more attractive or marketable, your negotiation power based on the asking price and how sellable your listing is, among the rest of the supply.
Hence, a good offer does not arrive by guesswork but by research, consultation, and promotion. Thus, we constantly remind our vendors, "Your first offer is your best offer!"
Want to know how to get the best offer? Our Agents are ready to chat. Contact us for advice on pricing and comparable sales!