A Review of Real Estate Sales Performance for the 1st Half of 2019
People often ask me how the market is performing. Rather than sharing how I think the market is performing, I prefer to share the facts. In this month's market report, I seek to answer the questions – "Is demand for real estate increasing?", "Where is the highest demand?" and "What are some of the key trends?"
As I have mentioned in previous reports, our market is not set up to easily facilitate an analysis of the performance of the entire real estate industry. Instead, this report will review trends we are seeing at Terra Caribbean and, as one of the island's leading real estate firms, I believe these trends provide useful insight into the industry as a whole.
Is demand for real estate increasing?
More people are buying. We closed 83 sales in the first half of 2019 versus 68 sales a year earlier increasing the number of successfully closed sales by 22%.
Additionally, a review of our total dollar sales for the first 6 months of this year shows a 19% increase in our closed sales value. We also track our agreed sales (based on the date an offer is made and accepted) and we agreed 29% more sales during the first half of the year over last year. All very positive indicators.
The lower numbers in 2018 are no surprise considering that everyone was busily focused on our annual elections which were held on May 2018 and the real estate market was in a holding pattern awaiting the outcome. If only I had a dollar for every time I called a client and they responded: "Call me after elections".....On second thoughts, the recent industry trends outlined within this report make me even happier than that would have as I feel positive about our island's future.
Where is the highest demand?
To answer this question I reviewed both agreed and closed sales for the period. As agents we work hard to ensure each and every agreed sale closes but unfortunately that is not always the case due to a myriad of reasons. Despite this, agreed sales are a useful leading indicator of market demand.
The charts below show the number of sales by US$ category versus last year, and a more detailed breakdown of agreed sales for the first 6 months of this year.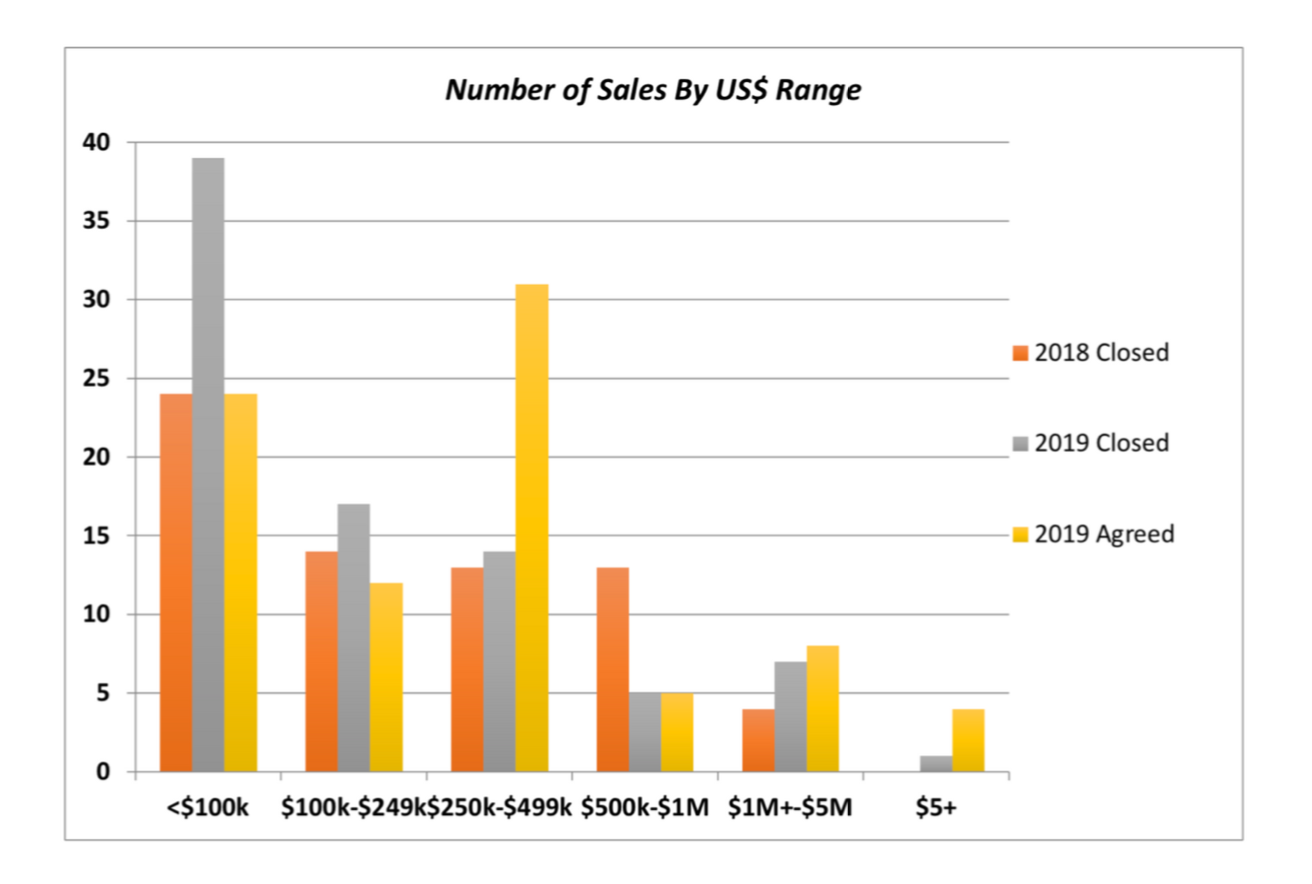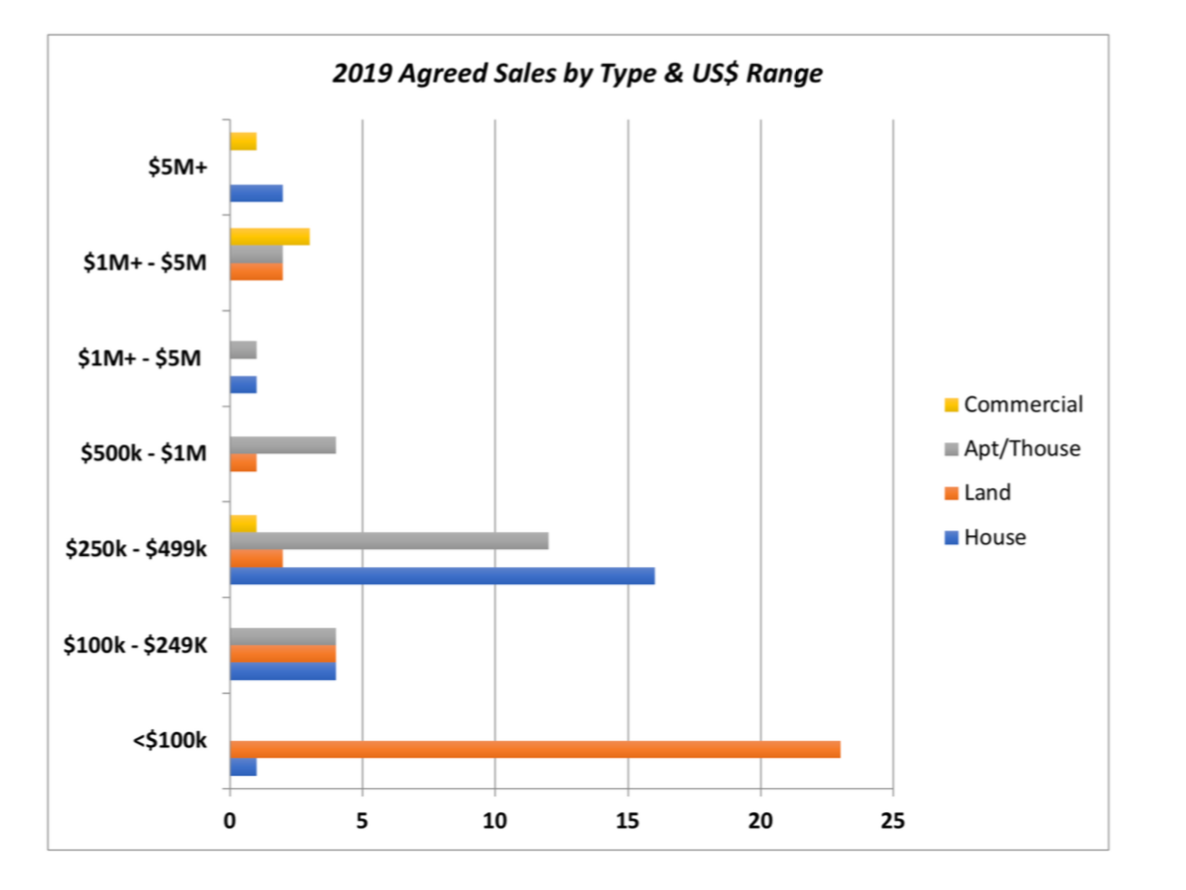 The two charts combined highlight where demand is highest and how each price category is trending:
Sales less than US$100k - As would be expected the majority of our transactions are realised from this lower priced category due to high demand from locals who now proudly "own a piece of The Rock" as we say. We sold 62% more property in this category in the first half of this year. 95% were land lots. We were fortunate to have some attractive land developments in our portfolio like South View and The Grove which experienced strong sales due to high pent up demand for centrally located, well planned and priced lots. Unfortunately demand for land above this price is extremely low with sales in this category attributed to lots over an acre, beachfront or lifestyle locations or development parcels. The average purchaser today is not willing to spend more than US$100k on a lot of land given high build costs.
Sales between US$100k - US$249k - Sales in this category increased by just over 20% with mixed demand in this sector.
Sales between US$250k - US$499k – This range is seeing increased demand with a mix of locals and foreign buyers seeking investment primarily in homes and apartments/townhouses. Most of these foreign buyers are seeking a property they can enjoy as their base when they visit the island and also rent short term whilst not on island to cover costs.
Sales between US$500k - US$1M – There has been a marked reduction in demand in this segment as we are seeing less foreign buyers with these types of budgets. Their budgets may now be smaller moving them into the lower category mentioned above.
Sales between US$1M+ - US$5M – The number of sales achieved in this category increased by a healthy 75% with two commercial office building sales, three beachfront or lifestyle development homes and one stunning 15 acre lot of land included in this segment.
Sales above US$5M - In the first half of 2018 there was a notable absence of sales above US$5 million. Thankfully this year we have seen a resurgence in demand in this segment with one sale already closed at approximately $5 million and a total of US$23 million in agreed sales in this category.
What are some of the key trends?
Some of the key trends which are worth highlighting include:
There have been a few articles highlighting that prices are more competitive now than they have been for more than a decade. The good news is that prices appear to have matched demand and properties which have sat on the market for extended periods are now selling.
Confidence appears to be returning with increases in many segments most notable being the market for property priced above US$5 million. The majority of these sales have come from overseas clients seeking a second home on the island.
Many clients in this US$5M+ segment are seeking a modern home which requires minimal modification and the availability of these properties is very thin. While there are numerous properties for sale in prestigious locations like Sandy Lane many of these need to be renovated to meet current finish standards. It is possible that achieved sales may have been higher if there was more suitable product available. Calling all developers looking for an opportunity!
The market for land priced above US$100k is very slim. Purchasers prefer to buy existing properties and fix them up rather than buy land and build due to high construction costs.
Recent news of the impending purchase of Apes Hill by Glenn Chamandy is welcomed and considered another sign of returning confidence. With his Canadian ties and worldwide connections there is hope that he may attract a wider market of buyers. Watch this space.
On a negative note the UK Pound has declined in value by approximately 5% and with many of our buyers in the higher categories coming from the UK this is a concern. On the flip side, this is benefitting vendors who are transferring from US to GBP.
Another area of concern is the recent increase in land tax rates which has resulted in sharp tax hikes for many properties thereby carrying holding costs up.
Overall there is no doubt in my mind that despite the fact that we continue to face some challenging times ahead, confidence is returning as the numbers above suggest. As always, I hope that this report provided some useful insights which will help you plan your next move in the local real estate market. Feel free to call me or email me with any questions or comments and look out for my next market review in September.
Contact me if you would like to receive these Market Reviews directly to your in-box.
Betty Cathrow
Real Estate Agent
Mobile: (246) 256-9646
Email: betty.cathrow@terracaribbean.com
*Note: All prices quoted in US$ assuming a conversion of US$1 = Bds$2