Should I Buy or Build my home?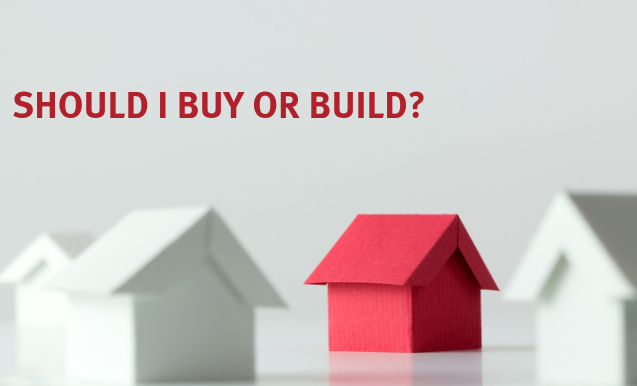 You have just received your pre-qualification letter from your banking institution and you are ready to invest in a little piece of the rock!
What should you do?
Your first step should be to call your Real Estate Agent who should ask you a few questions to guide you towards your first purchase. These questions would most likely be, What is the purpose of this purchase, is the property for your personal use or for investment purposes? Do you have a preferred location, and how soon do you want to purchase? A question you may also be considering is should I build my home or purchase a home? If you are mulling this over here are a few thoughts to consider:
BUILDING YOUR HOME
The first step is purchasing your dream lot in a preferred location and lot size.
You have an option to fully customize your new home where you can work with an architect or builder and based on your budget and long term goals decide on the square footage required to suit your needs, the size and number of the rooms, layout, and design of the property and the time frame to complete building. When designing your home be mindful your style of building and the budget to build fits the neighbourhood and the surrounding homes where you have purchased your lot.
You can also have your choice of floor tiles, kitchen and bathroom countertops, paint colors, landscaping, lighting and any other finishes you require.
There is an opportunity to incorporate more energy efficient materials and smart home technology in your design.
Your personal style can be integrated with more trendy designs that are popular at the time of building. If your budget is limited, you can complete the first stage of your home bearing in mind any future improvements.
You are a part of the process and can make changes and adjustments as you go along. Be mindful as sometimes these changes can become more costly and run you over budget.
If you are using approved funds from a lending agency, it should be easier to control your spending as funds will be released in stage payments.
Once you have moved in and gone through the snagging stage, you do not have to worry about big-ticket items such as changing your roof and upgrading electrical panels for a few years. You also have time to budget and schedule yearly maintenance on your property.
You can build relationships with your contractors and tradesmen who will always be of assistance during your maintenance stages.
On the flip side, if the time frame to build is of importance to you, the building process takes longer and I must mention building is not for the faint at heart!
BUYING A HOME
It can be less stressful than building a home.
Purchasing a newly built home will give you a turnkey solution as it will be move in ready! If you are purchasing from an investment perspective this may be an option for you as you can list your home on the rental market as soon as the sale is complete and you receive your keys.
If it is a home that requires a few upgrades you can move in and take your time with the upgrades to suit your schedule and budget.
In many cases purchasing an existing home in an established neighbourhood allows you to see what other types of homes have already been constructed and if they have been completed. Your surroundings are important as they help you to maintain your future property values.
Some existing homes have a special charm and characteristics that are not seen in newer builds. Such as original hardwood floors, trimmed windows and door frames, established gardens and landscaping, in some cases larger bedrooms and established the running cost.
If you are considering purchasing an existing home, it is highly recommended you ask a contractor or engineer to carry out an inspection of the property on your behalf. They can help you to identify any possible challenges that can occur with the property and any changes you would like to make so you can budget accordingly.
Once you have weighed both options you are now in a better position to make a decision based on which option' ticks most of your boxes. For any additional information please feel free to contact me via email Annalisa.sealy@terracaribbean.com or 246.836.4313