First Impressions Do Count!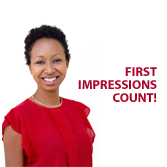 You never get a second chance at a first impression. This saying is true whether we are meeting someone for the first time or when showing a property to a potential tenant. Whether the tenant walks away with a decision already made that 'this home isn't for me' or 'maybe I'll shortlist this one', is entirely based on the impact of the first viewing.
Exteriors
Whether a person is relocating to Barbados or is simply looking to move from their current location, they are essentially looking for a home. It is important that the surroundings bring a level of comfort and security to which they are accustomed. Well-manicured lawns and a fresh paint job go a long way to indicate that a landlord cares for their property. This can lead to a potential tenant taking a further step towards signing on the dotted line. There have been situations where clients arrive at a property and refuse to enter because the exterior of the home was not appealing. Remember that vacancy costs are unrecoverable but the investment of a few dollars to maintain a rental property can secure a long-term tenant.
Interiors
One might assume since the home is unfurnished, there's no need for periodic checks but this could be further from the truth. I've walked into homes where leaves were blown inside because a window was left ajar. Trying to sweep away leaves with my feet is not an ideal way to start viewings. If a space has been vacant for a long period of time, there is the chance of dust settling and unpleasant odours emanating as a result of closed windows and doors. The landlord should ensure that a general cleaning is done at least once a month and ensure windows and doors are opened regularly, allowing fresh air in. I recently took a client to a property and on entering she made the decision on the spot, that this was where she wanted to live. Today, she remains a happy tenant.
Furniture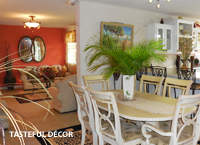 If you are renting your home furnished, the furnishings should create an inviting space to inspire a tenant. Although most tenants put their own touches on their house or apartment with family photos and art collected through their travels, general furnishings of a rental property should scream 'live here'! Clean, neutral colors, a beautiful vase tucked in a corner and well-made beds are examples of what could make a difference to whether a client would choose your property or your neighbour's. Brightly colored themed sheets and drapes can feel more like a vacation home than the 'home-away-from-home'. Regardless of how tasteful your choices are, you must keep in mind, that not everyone shares the same taste in décor. Keeping it simple and neutral is best for all. Consulting a well-respected interior designer can also be of tremendous help.
It is also advisable that furnishings are updated over time. If your condo was purchased with the furnishings in the mid 80s, strongly consider revamping the look in 2015. Modern sleek furnishings can make the room seem fresh and more spacious.
Finishes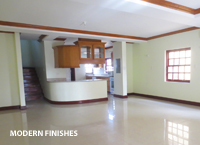 You may say 'But my rental property doesn't have all the modern finishes of others on the market because it's an older property." Though this may be true, it still can be quite appealing. Older properties tend to have a unique charm. That's why maintaining and keeping it clean and attractive is very important. If furnished, select furnishings that will attract a long-term tenant, while at the same time allowing them enough room to make the home their own.
Less is more
De-clutter! We often relate this to properties being offered for sale but the same goes for rental properties. We understand that some landlords may still be living in the home that they also have on the rental market. As a result, there may be a lot of personal items that make the home comfortable and cozy for the landlord. A potential tenant is always trying to see how this particular space can become their own. It would be quite difficult for them to envision this with the distraction of so many items around.
If I'm bringing a client to see your rental property for the first time, what will their first impression be?
If you're a landlord wishing to place your property in our rental pool or if you're seeking the ideal place to rent, I'd be happy to help! Please call me at (246) 836-8515 or email me at patrice.gill@terracaribbean.com.