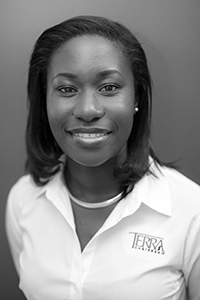 Kermisha Hayes
Kermisha Hayes is the Property Manager at Terra Caribbean. She joined the Terra Team as an intern in 2011 and quickly developed a working knowledge of the real estate industry. Since then she has gained a wealth of experience in property management and now leads the Property Management service line. Kermisha strives for continual improvement of our processes through professional development and client relations management. Her cheerful personality, solid work ethic, keen attention to detail and knack for going the extra mile positively impacts her ability to engage all service lines within the company. In 2015, Kermisha was awarded 'Terra Star' at Terra Caribbean following her award for 'Terra Rising Star' in 2014. Kermisha has also been recognised for her active involvement in community service projects and volunteer work initiatives both locally and regionally through the Rotaract Club of Grenada. As much as she enjoys exploring travel destinations in and outside the Caribbean, Kermisha loves spending time in the Isle of Spice connecting with family and friends and strengthening her island roots.
Education
B.Sc. (Hons), International Business and Economics/Finance, St. George's University, Grenada (2012)
Professional Training
Certificate of Completion of course in Basic First Aid and CPR (2015), St. John Ambulance Grenada
Certificate of Excellence for completion of professional development programme in Shipping & Logistics (2014), University of the West Indies Open Campus, Grenada
Fundamentals of Successful Marketing workshop (2013), High-Impact Consulting Group, Grenada
Event (Project) Management workshop (2013), Rotaract Club of Grenada
Internet Marketing workshop (2013), Grenada Hotel & Tourism Association
The Habit of Selling workshop (2012), Butler Learning Systems
Involvement
Member, National Realtors Association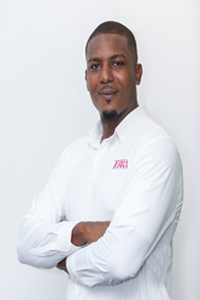 Anderson Pascall
Anderson Pascall is the Property Administrator at Terra Caribbean. His courteous nature, customer-oriented skills and hands-on approach to work make him a great team player. Anderson brings to the Property Management service line 9 years of valuable experience as a Certified IT Technician and seeks to grow professionally within the team while contributing to the overall success of the company. One of Anderson's favourite pastimes is basketball.
EDUCATION
COMPTIA Network + Certification (2009), BorderCom International Limited, Trinidad
COMPTIA A+ Hardware and Software Certification (2006), Stars International, Grenada
PROFESSIONAL TRAINING
Grenada Red Cross First Aid Training (2016)