Environmental Sustainability in Commercial Buildings: A Facilities Management Perspective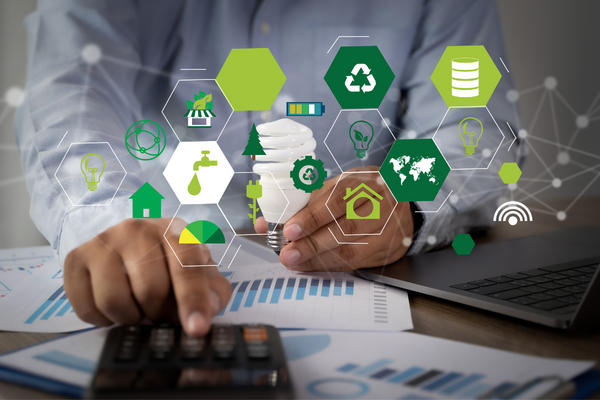 On November 1st 2021, at the United Nations Climate Change Glasgow Conference (#COP26), it was quoted by Her Excellency The Honourable Mia Amor Mottley, Prime Minister of Barbados, "national solutions to global problems do not work".
Against that viewpoint, it can also be argued that, within the scope of commercial buildings and complexes, we must take a unified approach in the design and construction of new structures, the retrofitting and repurposing of existing buildings and sustainable facility management practices to meet new norms. These new norms shall drive the compulsory revolution towards self-sustained buildings, making wise use of finite resources such as potable water, minimizing day-to-day energy consumption and thoughtful, calculated waste management programs.
According to a survey of over 1,200 professionals in 79 countries in the 2021 World Green Building Trends Report, more than 60% of new commercial construction and existing building renovations or retrofitting endeavors in the next three (3) years are projected to be sustainable or have green considerations.
What Are the Driving Factors of Adopting Sustainable Buildings?
Interest in sustainable buildings continues to be driven by diverse political, social and economic factors impacting building owners, operators and occupants alike, these include:
- Statutory development plans, regulations and policies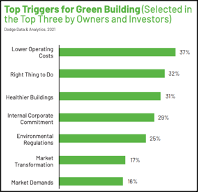 - Revised building codes
- Improving the comfort, safety and productivity of tenants and building occupants
- Reducing the consumption of water, energy and other resources
- The threats associated with current and future economic uncertainty
Slowly, we are witnessing prospective buyers, lessees and tenants adding 'green' features to the list of what they look for in a commercial space which represents a potential pending market trend emphasizing not just the social value of sustainability in buildings, but also monetary value appealing to their stakeholders and decision-makers.
Facility Management's Role in Sustainable Buildings
A building may be sustainable by design, but our commitment to being green shouldn't stop there. Effective management of sustainable buildings is absolutely necessary for its initial status and objectives to be realized and maintained. Therefore, many correlating activities outline the facility manager's role in leveraging sustainable buildings in a way that the environment, its stakeholders and building occupants all receive their share of benefits.
1.1. Conduct Utility and Waste Audits
Audits are a great way to examine how well a facility is performing and could influence new steps that can drastically reduce utility expenses and trash hauling/disposal fees. Results of audits include, installation of water-saving fixtures and devices, revision of occupancy patterns and building operation schedules, and sorting of trash to enable recycling and upcycling. Other outputs sometimes include the use solar energy through photovoltaic systems and rainwater harvesting/retention methods if they are not already pre-existence.
1.2. Sustainable Maintenance Programs
Sustainable facilities require a strong system of checks and balances to be in place with regards to the equipment being utilized. Many maintenance tasks require the use of materials and energy which can produce unintended and hazardous byproducts that have a detrimental impact on the environment. To avoid this, facility managers must analyze the maintenance required to prolong an asset's life cycle from an environmental standpoint also. A few main aspects to be considered when evaluating the sustainability of maintenance tasks are:
- Maintenance cycle and how the impact of a maintenance task grows the more it is repeated.
- Impact of the activity in terms of the amount of energy you use, the pollutants it creates, and the hazardousness of the waste.
- Impact of the maintenance products you use (such as solvents and grease) on the environment.
Once this evaluation has been completed, a comparison of existing maintenance tasks can be compared to alternative actions and ways to improve them explored.
1.3. Switch to Eco-Friendly Cleaning Products
Maintaining good sanitation within shared spaces is a key responsibility of facility managers. However, most of the cleaning products used often contain unsafe ingredients, which can become an occupational hazard for cleaners and residents as well. A simple switch to eco-friendly cleaning agents can significantly reduce the number of toxic chemicals that a building releases into the environment. Naturally, it also reduces the likelihood of residents being exposed to hazardous chemicals. The key to finding greener cleaning products is to search for those which do not use volatile organic compounds (VOCs) like phosphorus and nitrogen.
1.4 Encourage Sustainable Habits with Contractors
A sustainable attitude can manifest itself in many ways, the smallest of processes can boost a facility's status. Encouraging sustainable habits and methods with contractors is one easy change to make. Project planning, task scheduling, energy-efficient tools and repurposing of waste from jobs all interconnect and create a more sustainable building and inculcate sustainability in their work and across-the-board.
1.5. Keep All Stakeholders in the Loop
As new policies are implemented and changes are made, it is imperative to keep everyone who could be potentially impacted in the loop. This may include owners, staff, service providers and employees of tenants. While they may not be directly involved in the execution of these changes, they should be provided with the assurance that sustainability measures are ongoing and being actively refined. This aids with trust, compliance and a sense of culture associated with the building and the organization.