Let's Talk Property Prices!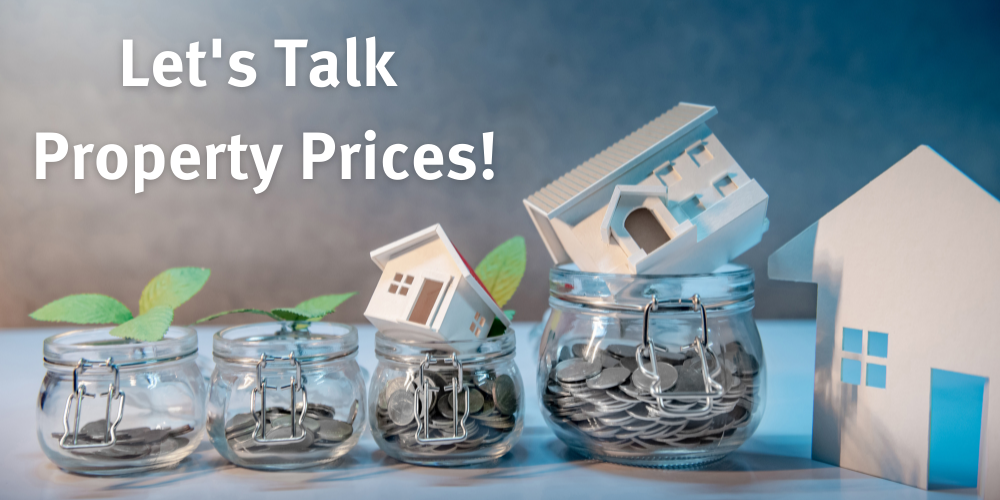 A few months ago, we discussed the difference between price and value and how the perception of both concepts affect transactions. Additionally, the last year and a half during the pandemic has changed the already shifting T&T Real Estate market. Now, with all the talk of Property Tax and Land Valuations, we realized that there are many misconceptions surrounding Property Prices.
Therefore, we delved into some of our sold transactions over the past 18 months from our database to understand what money can buy today at different price ranges. This is not a definitive guide but an insight to illustrate what the market has dictated over the last year and a half. The aim is to help both property searchers and vendors navigate the real estate market and show what's selling and for how much.
What can TTD $1m buy?
You may think that TTD$1m may not be much but in this market with an investment of $1m you can at least buy land.
Less than $500k - Agricultural land usually sells at this price range in Central, Rio Claro and Toco or even some residential land lots in the East or Central, but those listings are rare.
Up to $750k - Outside of West Trinidad, residential ready to build land is available across Trinidad and Tobago in gated developments, with some amenities. Land could range from 5,000 sq.ft. up to 10,000 sq. ft. depending on the area and you'll have some change left over from that million to start building.
Up to $1.25m - Just under $1m, you may get land in West Trinidad, but it will not be ready to build. Some investment would be necessary. However, just above $1m, there are some beach front land gems available on the North Coast of Trinidad. Also available just above $1m, small apartments, measuring less than 1,000 sq. ft. in older complexes or buildings can be found in the West, but they go very quickly off the market. In the East slightly bigger apartments or townhouses, measuring a little more than 1000 sq. ft., are available.
What can TTD $2m buy?
The $1.25m to $2m price range is where we see most transactions happen, probably due to most of the market being pre-qualified to buy at this price range. These buyers are usually a single professional or a couple with or without children, ready to buy their first home. At this price range, there are many options.
$1.25m to $1.75m - As more developments are built outside of Port of Spain, you can find brand new apartments, townhouses and houses in East and Central Trinidad. In the West, modest apartments, like 2-bedroom West Hills units have sold within this price point and also townhouses in older complexes.
Looking for a house? Older houses are available across the country, but they usually need some upgrading or complete renovation, but you gain on land space.
What about land? Large parcels of land in some upscale areas in West and East Trinidad can be found in this price range.
Up to $2m -Just under $2m, 3-bedroom apartments and townhouses are available in established developments like West Hills or Victoria Keyes in West Trinidad. There are also smaller, but newer apartment units in private complexes available at this price point.
In the East and Central, comfortable, move-in ready townhouses and houses are available in gated communities. If you prefer a house, and you do not mind a longer commute, some homes in slightly far-reaching areas are available in East and Central with more land area to spare.
Additionally, many older homes have sold across the country (even in the West) with more space but in need of some upgrades at this price point.
Land can also be found across the country in established neighbourhoods sometimes averaging over 7000 sq. ft.
Up to $2.25m - However, if you'd like a well-appointed townhouse in the West, you'd have to spend a little more than $2m. However, in East and Central Trinidad, you get bang for your buck with modern houses in gated communities, sometimes averaging over 2,000 sq. ft. living space.
If you'd like to live in an established neighbourhood, like Lange Park, in Central Trinidad, you may find an older home at this price, but some upgrades would be required.
What can TTD $3m buy?
At $3m, you have more flexibility to choose. Obviously as you veer further from West Trinidad, homes are sizeable and modern. However, it's still possible to find a forever home in the West at this price tag.
$2.25m to $2.75m - If you love houses, the East, Central and Santa Cruz offer beautiful homes in family-friendly enclaves with more space, averaging over 2,500 sq. ft. living space. Or in the West, you can comfortably buy a townhouse in family neighbourhoods like Westmoorings or in a smaller development in Diego Martin or Maraval.
New investors can enter the market as small commercial building or apartment buildings are available and have sold in some parts of POS or in the East.
Up to 3.25m – Around $3m opens new possibilities in the property space. In the West, older homes with more breathing space and land space are available in established family-friendly neighbourhoods, but some may need minor upgrading. Or if you're looking for community living, you can definitely find a spacious townhouse averaging 2,500 sq. ft. or more. At this price, you can also settle down in a Harbour View 2-bedroom unit with ocean views.
Outside of the West, townhouses in safe and secure neighbourhoods can be found at this price range or new modern homes with lots of living space.
Also, while staycation homes don't start at $3m, for this price, you can get a vacation-ready, contemporary house with amenities (maybe with a pool) in a holiday-friendly area.
What can TTD $4m buy?
As we get into higher prices, the disparity between $500,000 and $1,00,000 diminishes. Therefore, what you can buy between mid $3m and just above $4m is not vastly different.
$3.25m to $3.75m – In this price bracket, you can find sprawling homes in older middle-income, well-established neighbourhoods. They are usually homes that have 3,000 to 3,500 sq. ft. and were built in the 1980's, so some upgrading would be needed.
Also, around this price range, in the commercial market, land for development can be found just outside of Port of Spain.
$3.75m up to $4.5m – With this healthy budget, you can acquire the same as above, but newer homes in more upper-income neighbourhoods like Haleland Park, Maraval and with a pool. At this price range, you can also buy a 3 bedroom One Woodbrook Place unit with views of the city or views toward the West.
On the commercial side, small but older office buildings in the heart of Port of Spain can also be acquired at this price.
What can TTD $5m buy?
$4.5m up to $5.25m – In this price bracket, homes start featuring architectural details and average over 4,000 sq. ft. in exclusive locations. If you're buying a holiday home, Down D' Islands also has beautiful homes with amenities like your own jetty or take a drive down to Mayaro and purchase a majestic beach front property.
Up to $6m – At this price level, you can get a stunning stately home; either a traditional-style house on a large expanse of land ora stylish home in an exclusive neighbourhood. You could also enjoy high-rise living in generous apartments with ocean views with this budget.
What can $6m buy to $9m?
Grand homes in this price bracket exist in exclusive neighbourhoods around the country and are usually ultra-modern homes with clean designs. The amenities range but usually feature housekeeper's quarters, standby generators, lots of water storage, a pool and may be semi-automated.
While this list is not exhaustive, we hope that this shows what bang you can get for your buck.
Want more advice on Property Prices? Connect with any one of our Agents here.