Coping with COVID fatigue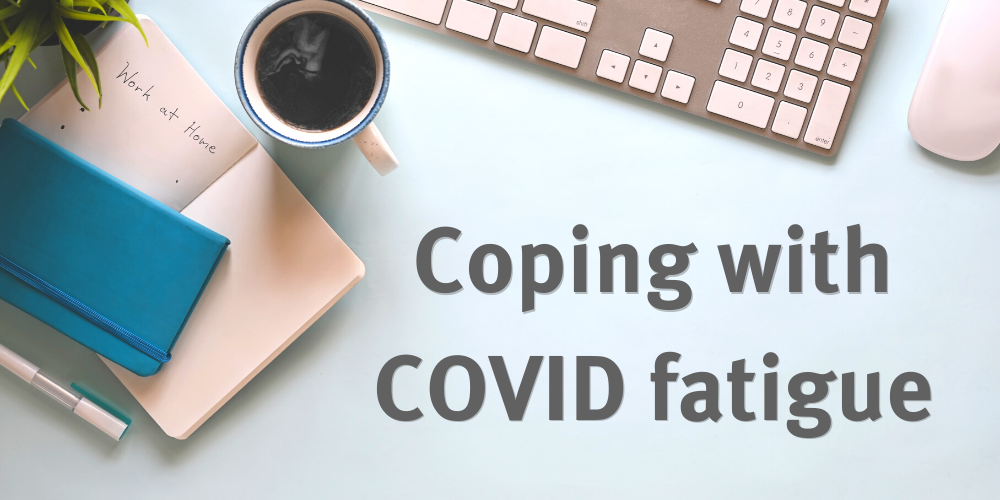 We're taking a break from talking about Real Estate trends to discuss the real topic at hand: COVID fatigue.

Last year, post our initial lockdown, we wrote this article which showed that for many renters, buyers, and property seekers, lockdown was a wake-up call, a period of reckoning and a time to make decisions. Here we are a year later, and to our surprise, we are still in a pandemic and in another lockdown. However, the consensus is that this lockdown is stressful and more difficult, for varied reasons: one, the severity and speed of the spread of COVID-19; two, we are currently in a State of Emergency; and three, one year later, COVID fatigue is a real thing for many.

While numerous businesses have managed to pivot over the last year, making their operations digital and getting websites ready for e-commerce, some of us are still navigating how to pivot on a personal level; battling mental health challenges amid concerns of job loss, decreases in business revenue or the health of our loved ones. In honour of Mental Health Awareness month, we're examining COVID fatigue and how to cope during these times.

What is COVID fatigue?
COVID fatigue are those feelings of anxiety, fear, uncertainty, depression, loneliness, lack of motivation, exhaustion, relationship issues, work-related concerns and worry about one's health (and the health of loved ones) stemming from the current pandemic and the resultant lockdown.

Sound familiar? Well, you are definitely not alone. Overcoming these anxieties may sound impossible but we can alleviate some of these stressors with the below advice compiled by our team:

1. Work/Life Balance – We say this all the time but now more than ever is a separation between work and life imperative. With home doubling as office and home, it is crucial that we insulate and compartmentalize work from non-work as best as possible. It goes without saying that it is tough, especially for parents, but by zoning your physical space and your time throughout the day, you can control the onslaught of work stress invading your home. Create a timetable; have hard stops for work times or take mini breaks throughout the day to regroup. Put away your laptop at the end of the workday or close your office door. Do what you need to do to create that division.

2. Managing your Mindset – Between the news, social media and whatsapp groups, it is easy to get absorbed into the vortex of fear, anxiety and negativity. It's even easier to spread these same feelings through a simple forward and perpetuate the cycle of dread. We all agree it is important to stay informed and abreast of the current situation, however the loop of panic can derail us from being peaceful, productive and focused. By consciously choosing to stay positive through perspective, gratitude, and mindfulness, we may be able to slowly thwart the anxiety, even just for a little while.

3. An Attitude of Gratitude – Speaking of perspective, we know things could be better, but they also could be worse. Even with our daily struggles of juggling work, family, cooking, cleaning, exercise, etc, we can all find the silver lining. Make a habit of counting your blessings each day to ground you. Running errands like going to the grocery are a bigger hassle, but you have funds to feed your family. Work stress is unending, but you have a job. Your children are noisy and home school is frustrating, but you are surrounded by love, joy and most importantly, health.

4. Stay Connected – We've taken contact, touch and physical connection for granted and it took a pandemic for us to treasure those moments. Liming with friends and family, socializing, and celebrating in person are integral to our culture. As a people, we are natural social butterflies. Now with strict social distancing, staying safe means protecting our loved ones by staying away and consequently, the lack of human interaction is consuming us. To diffuse this loss, stay connected just by reaching out with a phone call. It may seem obvious, but the overwhelming low moods spurred by the lockdown can unintentionally make one self-isolate emotionally. Breaking the monotony of focusing on COVID to connect with our inner circles of friends and family can help by way of laughter, support and love.

5. Remember the Big Picture – The uncertainty of the pandemic has weakened our resolve as basic freedoms have been revoked. We can't see the light at the end of the tunnel right now, but it is there. While we are in the throes of the second wave here in T&T, other countries (some after 3 major waves) are slowly reopening. But we must remember that a pandemic is global, and we are not alone in the world or the region coping with this virus. All around the world, different populations have made similar sacrifices with lockdowns, social distancing and masking up. By each of us doing our part here in T&T to STAY apart and stay safe, we will curb the spread and inevitably return to normal life. Knowing that we will reopen at some point, we can look forward to reuniting with family and friends and never take life's simple pleasures for granted again.

So in the meantime let's stay alone together and stay positive.