How has Covid-19 affected the real estate market so far?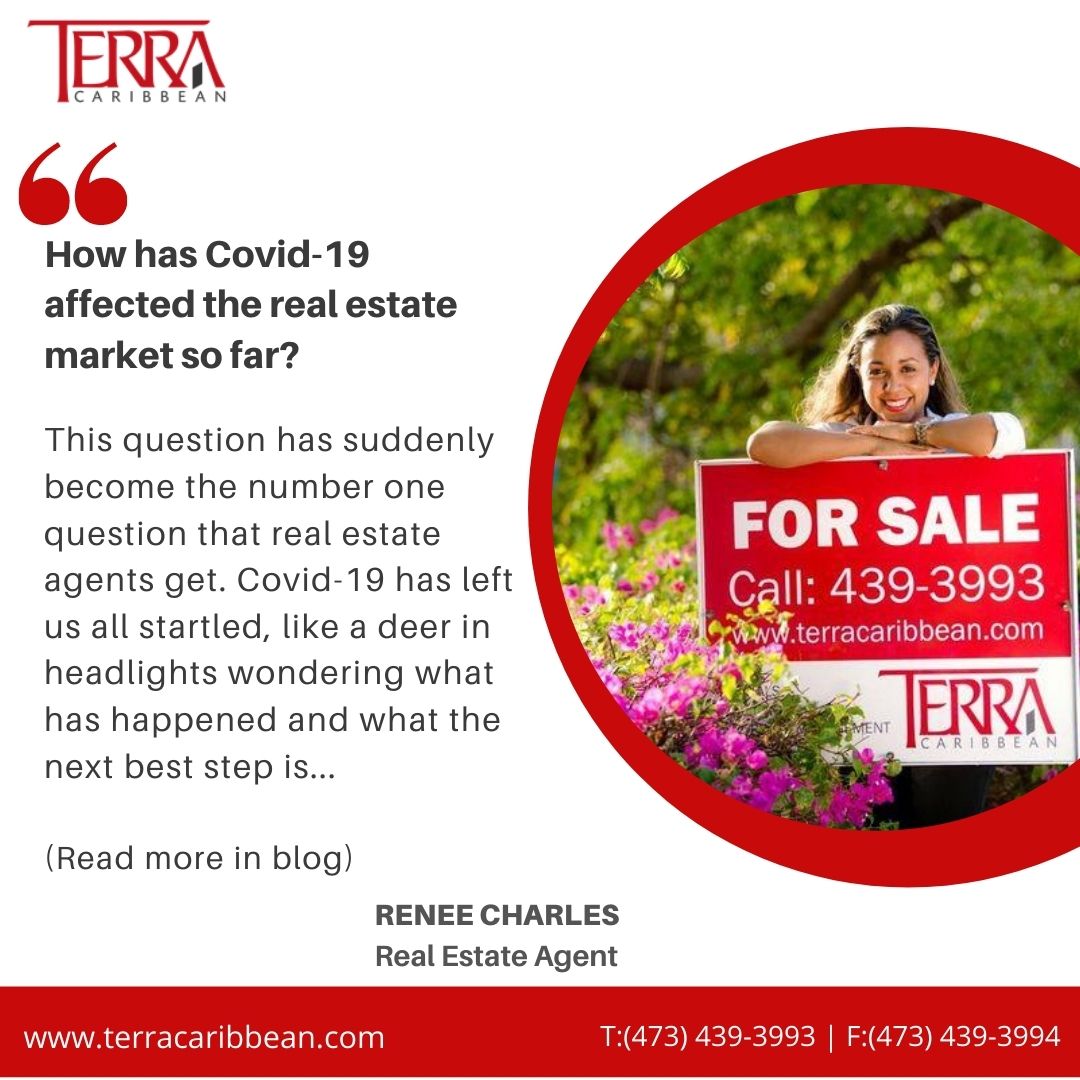 How has Covid-19 affected the real estate market so far?
The number one question that real estate agents get "how is the market?" has suddenly become a very loaded question. "Corona Virus", "Covid-19" and "Covid" has left us all startled, like a deer in headlights wondering what the heck has happened and what the next best step is, not only for our businesses but for our personal lives. How do we navigate this without any semblance of a guide book and no one to turn to for advice? My answer to this, is to pay close attention to the changes occurring in our market and also aim to understand how changes in regional and international markets can/will affect our local market, plus that is what Terra Caribbean is here for!!
Let's start by looking at the changes that have already begun in Grenada's market.
SGU rental market
The physical campus of St. George's University, one of the largest contributors to Grenada's GDP, has been closed since approx. mid-March 2020 and, by all indications will not reopen until January 2021. This would be one of the longest perios that the physical school has been closed. This closure means that thousands of students and faculty are off island and hundreds of empty off campus room stock in the south of the island are empty and are likely to remain empty for the period. Additionally, many businesses such as car rental companies, restaurants and supermarkets have lost a large chunk of their clientele. This change will have a big financial impact on businesses and landlords, and will have a spin off effect deeper into Grenada's economy. Though I do not wish this on anyone, some businesses may be left with no choice but to close their doors and some landlords left with no choice but to reduce their rent or maybe even sell their properties. On the flip side comes the possibility of reduced rental rates which locals will benefit from and new investment opportunities for able investors to capitalize on.
Short term/holiday rentals
In addition to hotels, Grenada has a substantial stock of holiday rental villas, cottages and Air BnB type rooms that were thriving pre-Covid and are suddenly all empty and will likely remain empty until our borders open up and people regain their comfort with travelling. This change means lost rental income for many, but also provides opportunity for Grenadians to staycation at affordable rates, provides more long-term rental options as more and more landlords are now exploring this avenue, and gives landlords a good opportunity to improve their properties.
Residential Sales
General demand for mid-low-income properties has remained steady while demand for higher priced properties has dropped slightly. The likelihood exists that demand may drop further as our borders remain closed and as people monitor their spending more rigidly. The movement of property in this category will depend on seller motivation. Will sellers be eager enough to accept price reductions in order to meet the lowering demand and spending power of buyers?
The future is very uncertain but the possibility exists that we will see a similar trend to that witnessed during the years following the 2008 recession, where there was an influx of foreclosure properties being sold. In some instances, the value of properties were lower than at the time of mortgage which had a negative impact on defaulted loans.
Residential Rentals
In this category, I refer to residential rentals that are outside of the "SGU belt". As is happening all over the world, there are many people out of work in Grenada leaving some struggling to pay rent.
This has opened up a whole new level of negotiation between landlords and tenants and has led to reduced rental rates and in some instances increased vacancies. As with everything, there is a bright side and here we see an opportunity for many tenants to upgrade their quality of accommodation for a similar rate to what they are currently paying.
Commercial Sale & Rentals
There have been some immediate changes in the commercial rental segment as tenants negotiate rent reductions or waivers in rent and more changes are expected in the medium to long term. With so many changes happening and so much uncertainty in the market, it is likely that businesses will become more conservative in their spending, especially on fixed costs such as rent. Added to this, many businesses were forced into working remotely during the Covid lockdown and this new experience has business owners re-examining the need for large physical offices.
As it relates to commercial sales, many companies who had plans for expansion pre-Covid, have put those plans on pause, while some have continued as planned. Only time will tell the degree to which the market will contract.
Grenada and the wider Caribbean have championed through this Pandemic and have proven to our larger neighbors that we are ready and capable. In my view, our handling of Covid-19 has highlighted us as an attractive investment location not only to foreigners but to our large diaspora. I have no doubt that together we will pull our economy back up, the way we have so many times before. We are all in this together and together we shall prosper.
Stay Safe Folks!