2019 Year in Review
I feel like I just witnessed the close of 2019 and yet here I am galloping towards the end of February already. This year has opened with a feeling of optimism. The team is exceptionally busy and we sense a shift in the market. As always, my analytical side wants to know what do the numbers say? Is that gut feeling that things are improving right?
As our market is not set up to easily facilitate an analysis of the performance of the real estate industry as a whole, I need to rely on our sales statistics at Terra to provide an indication of market trends. As Terra Caribbean is one of the island's leading real estate firms, and we are nothing short of fanatical about gathering market knowledge and tracking the details of each sale, I think it's a good place to start.
My deep dive into the statistics seeks to answer the questions – "Is demand for real estate increasing?", "Where is the highest demand?" and "What are some of the key trends?"
Is demand for real estate increasing?
More people are buying. We closed 163 sales in 2019 versus 133 sales in 2018 increasing the number of successfully closed sales by 23% year on year. Even more impressive than this is the fact that our total dollar sales increased by a whopping 58%, and the average value per sale increased by 29%. These indicators suggest that higher value real estate is trading more frequently today than a year ago.
In fact, if we look at the average value per transaction for agreed sales in 2019, which is a useful leading indicator of the market, this upward trend has continued. It is of course important to note that while we work hard to ensure each agreed sale closes it is inevitable that some sales fall through, so this average can be driven downward if one of the larger sales in the pipeline fails to close for some reason.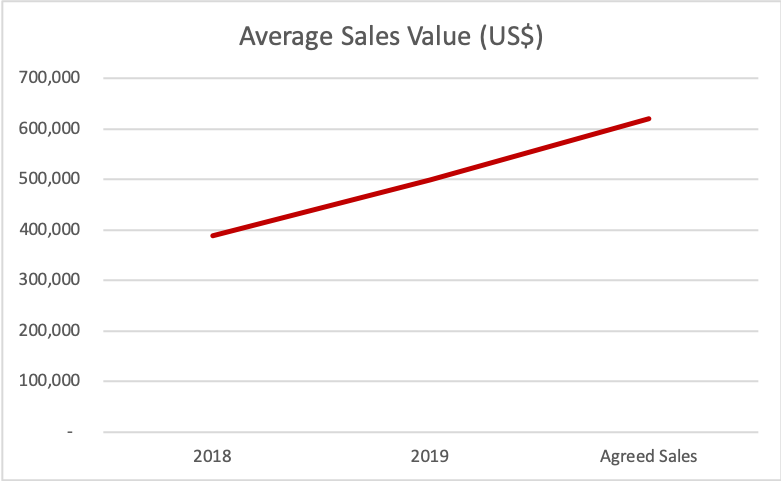 Where is the highest demand?
To answer this question, I reviewed both agreed and closed sales for the period. The charts below show the number of sales by US$ category versus last year, and a more detailed breakdown of agreed sales for the year.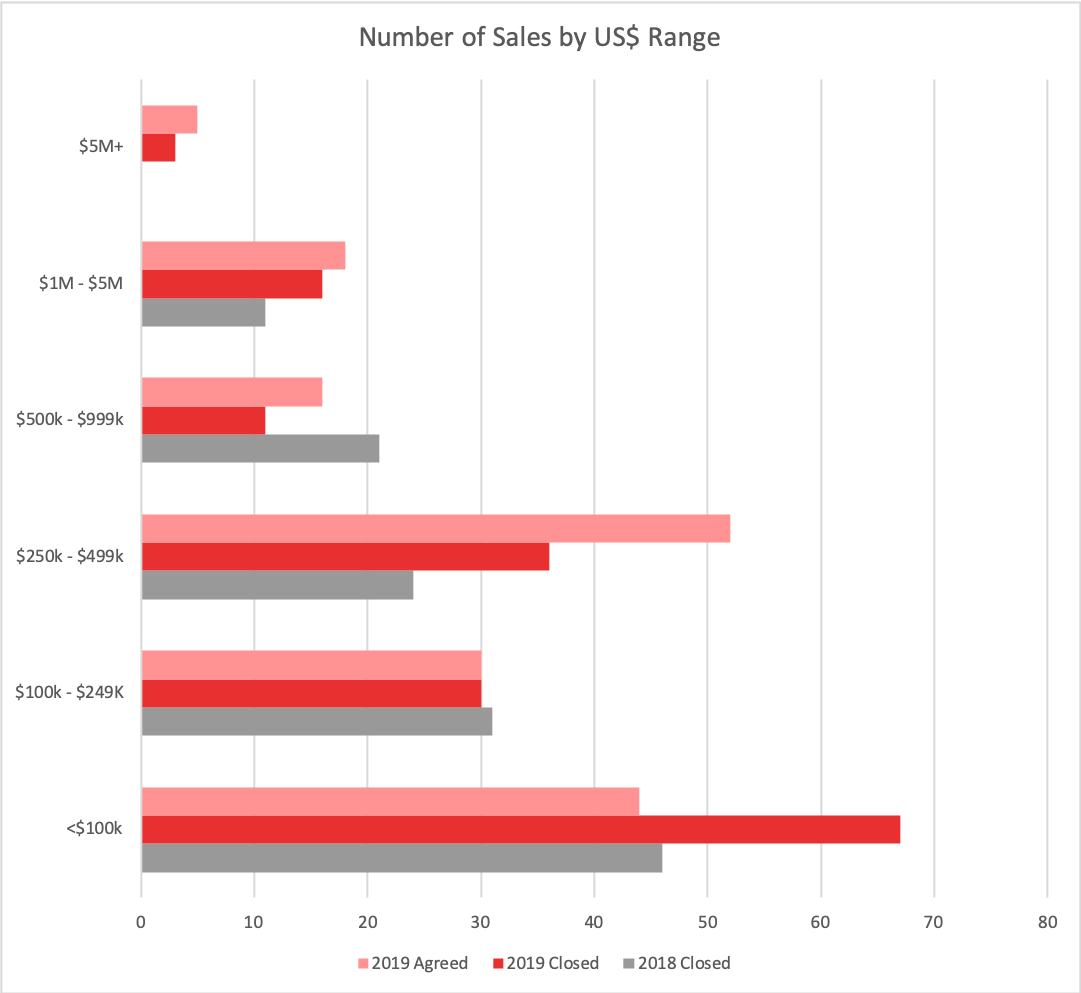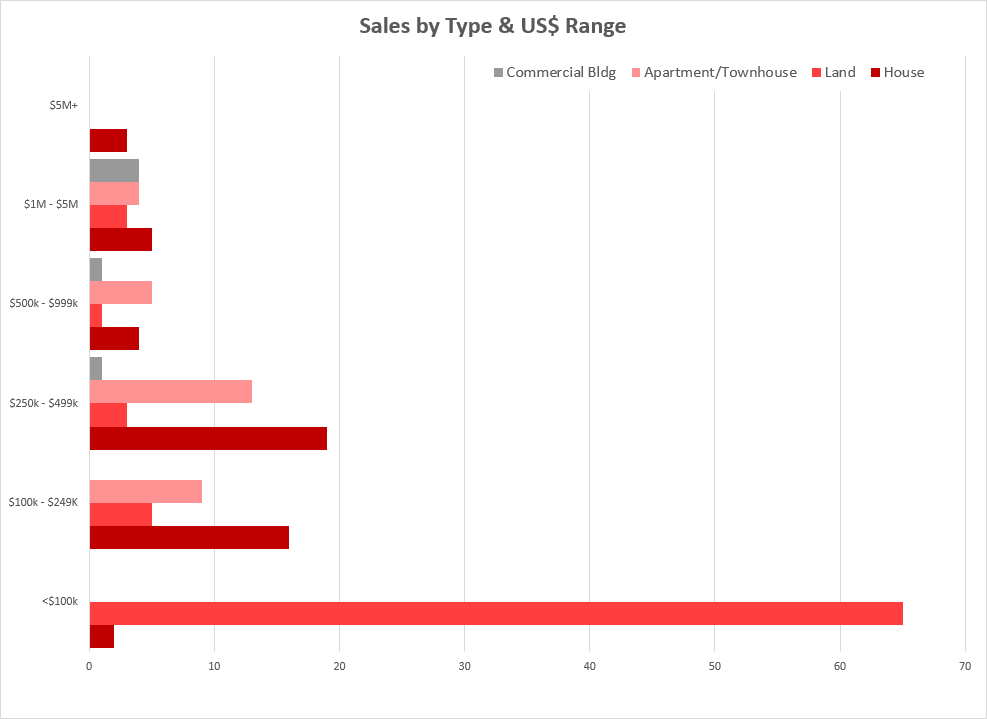 The two charts combined highlight where demand is highest and how each price category is trending:
Sales less than US$100k - As would be expected the majority of our transactions in this category are land sales to locals. We sold 46% more property in this category in 2019. This impressive increase would have been driven by the sale of land within land developments like South View and The Grove. These centrally located, well planned and priced developments experienced strong sales resulting from pent-up demand with this popular Christ Church parish accounting for 76% of sales achieved. It is unlikely that this pace of sales will be experienced again in 2020 now that this pent-up demand has been satisfied.
Sales between US$100k - US$249k - Sales in this category remained stable with a greater number of apartments sold but fewer houses and land. Just 5 land lots were sold in this category signaling declining demand. We have a number of beautiful lots with excellent views in this category which continue to sit on the market as buyers concerns about high cost of living, land tax and build costs have negatively impacted this segment. There is however strong demand for houses in this price range, but supply is low driving this registered decline in the number of homes sold.
Sales between US$250k - US$499k – We sold 50% more properties in this price category in 2019. This is the result of increased demand from a mix of locals and foreign buyers seeking investment primarily in homes and apartments/townhouses. Most of these foreign buyers are seeking a property they can enjoy as their base when they visit the island and also rent short term whilst not on island to cover or contribute to costs. The rate of agreed sales suggests this trend will continue into 2020.
Sales between US$500k - US$1M – On the flip side we have experienced a 48% reduction in demand in this segment as we are seeing less foreign buyers with these types of budgets. Perhaps these purchasers have jumped "ship" and decided they are more comfortable in the lower spend category mentioned above which might explain the corresponding increase.
Sales between US$1M+ - US$5M – The number of sales achieved in this category increased by a healthy 45%. Of note is the resurgence in commercial interest with three commercial buildings and one hotel site sold compared with no transactions in this segment in 2018. Additionally, two of the villas sold in this category in 2019 were priced above US$4.8 million (closing in on the US$5 million plus category mentioned next) while the highest value sale a year earlier was significantly below this at US$3 million.
Sales above US$5M - In 2018 there was a notable absence of sales above US$5 million. In 2019 we have seen a resurgence in demand in this segment with three luxury villas closed and a further US$10.25 million in agreed sales in this category. Each of these properties is located in the premium parishes of St. James or St. Peter with one of the agreed sales being a plantation with plans for future agricultural use.
What are some of the key trends?
Looking at the market as a whole there are some key overall market trends evident which are worth highlighting. Terra has not been involved directly in some of the sales mentioned below but our dedicated Knowledge Department gathers market sale information where possible to further expand our market data:
Prices appear to have stabilized and confidence is returning with buyers responding favorably as evidenced by marked increases in almost all price segments.
We have received multiple competing offers for a selection of attractively priced properties recently. This has not happened for some time in the Barbados market, suggesting those "in the know" are watching the market closely for opportunities.
The market for land priced above $100k continues to be very low. Purchasers prefer to buy existing properties and fix them up rather than buy land and build due to high land taxes and construction costs.
The luxury buyer has returned as evidenced by the sale of a number of West Coast villas and prime beachfront land in 2019. The Dream which was listed at US$15 million is one of the most notable sales for 2019 in this category.
Many of these luxury buyers are seeking a modern home which requires minimal modification and the availability of these properties is very thin. With a selection of attractively priced homes ripe for renovation to current finish standards in prestigious areas like Sandy Lane, developers should take note.
With many of our buyers in the higher categories coming from the UK the uncertainty caused by Brexit and the ever-fluctuating GBP is a concern. However, Knight Frank reported a -7.5 per cent currency discount for GBP buyers between prices in January 2017 and January 2020. As the pound has strengthening against the US dollar over the past three years, UK buyers are now experiencing a comparative discount while in turn UK vendors can often afford to be more flexible on price.
https://www.knightfrank.com/blog/2020/02/12/international-property-digest-barbados-the-caribbeans-longtime-favourite
Another area of concern is the increase in land tax rates implemented by the Government last year which has resulted in sharp hikes in rates to many properties. We have most definitely seen an increase in sale listings as a result of this as vendors are frustrated by higher carrying costs.
The Government has however also overhauled other areas of our tax system, created a new Planning and Development Act and assured certain duty and excise tax exemptions for developers in key areas which should have a positive impact on the real estate industry. Barbados now has low personal income tax rates and the lowest OECD-compliant corporation taxes in the world with corporation tax slashed from 30% to as low as 1% for profits in excess of $30m. Additionally, the new Planning and Development Act favors development and emphasizes speed and predictability promising that decision times will be reduced drastically which should have positive results.
The island is abuzz with talk of a number of new or renewed developments which could fuel economic growth such as Apes Hill, The Hyatt, The old Paradise/ Four Seasons site and Hotel Indigo to name a few. Additional development sites to watch include the ½-acre beachfront lot in Weston, St. James, earmarked for a luxury villa and the 70-acre Merricks site on the south east coast which have both recently sold, and the 7-acre Golden Mile which is currently under offer at the northern end of Speightstown, having been listed for sale at US$10 million. This level of activity suggests that developers are considering a favorable future for the island.
There is room for innovative new projects in the market. This is evidenced by the early success of The Estates at St. George

This project is the first of it's kind in the Caribbean and demand has been exceedingly strong with just over 50 of the 88 apartments in Phase 1 already reserved at an average price of US$333,000 since the project was launched nine months ago. It is important to note that I have however chosen to EXCLUDE these additional impressive results from our statistics as sales will not close before the end of 2021/early 2022 when Phase 1 of this project is complete.
Last but most definitely not least, I personally find it favorable that the owners of two of the island's Flagship properties chose to withdraw their homes from the market for sale in 2019 and have renewed their interest in the island. The appeal of Barbados continues to be strong.
Overall these results substantiate our optimism. The market is without a doubt seeing improvements. In my opinion however it is important to caution vendors not to feel overconfident and rush to inflate prices in the short term as the local and world economies continue to face challenges.
As always, I hope that this report provided some useful insights which will help you plan your next move in the local real estate market. Feel free to call me or email me with any questions or comments and look out for my next market review in March.
Contact me if you would like to receive these Market Reviews directly to your in-box.
Betty Cathrow
Real Estate Agent 

Mobile: (246) 256-9646
Email: betty.cathrow@terracaribbean.com
Note: All prices quoted in US$ assuming a conversion of US$1 = Bds$2