A Review of the Residential Long-Term Rentals Market for 1st Half of 2019
We are now past the half-year mark for 2019. How did that happen so fast? I wanted to take a moment to reflect on the last 6-months and share some insights into the residential long-term rental market so far for the year.
One of the things I like most about working at Terra is that we can provide advice based on facts – real time, accurate information on real estate transactions across both the residential and commercial sectors. It is not a perfect representation of the entire market as there are no island-wide statistics readily available but, as one of the island's largest real estate firms, I believe that the knowledge we diligently gather provides a useful snapshot of industry trends. So here goes…..
Has there been an increase in demand?
Absolutely. We saw a 30% increase in the number of properties rented long term over the same period last year. The majority of these rentals took place in January with 31 leases finalised, just over double the amount for the same month in 2018. This was driven primarily by demand from ROSS University School of Medicine (RUSM) faculty. In fact, during that period we were scouring the market for new listings as the supply of suitable properties was so thin. A few of my listings rented before even making it onto our website. We all had to work quickly to secure properties for clients otherwise other prospects were anxiously waiting in line. A nice "problem" to have. After that we suffered from undersupply of suitable properties, which really is NOT a nice "problem" to have. The market eventually adjusted and we also experienced strong months for rentals in April and May.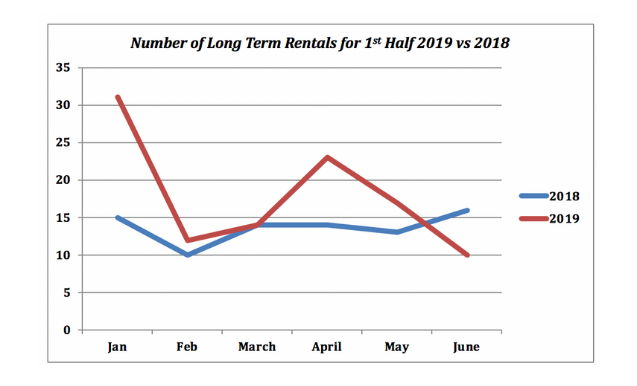 Where has demand been greatest?
Unfortunately this increased demand has not impacted all areas of the island and all types of properties. Well-maintained 3-bedroom properties in central, safe and family friendly communities continued to lead the market. We did however see a marked increase (+78%) in the demand for 1-bedroom properties with some inflation in rents which landlords were happy about. This has likely resulted from RUSM faculty.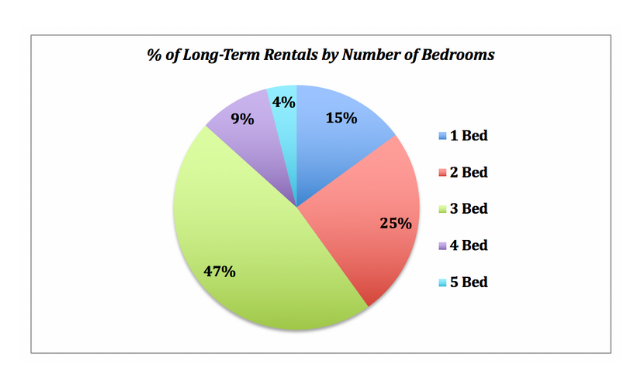 58% of the properties we rented over the period were apartments, 31% were houses and the remainder townhouses. It is important to note however that these numbers are of course driven to some extent by the large supply of apartments for rent on the island.
Furnished properties continued to be in highest demand with 89% of the properties we rented including furnishings, a slight increase over last year.
What's next and are there any opportunities?
There are a few trends, which are worth considering as we look forward to the next 6 months.
Some of the rentals we secured for RUSM faculty in January were for 6 month contracts and RUSM has already expressed a wish to continue renting from September so these properties likely will not come back on the market, nor will there be another "surge" of RUSM demand for the time being.
July and August are typically strong months for rentals as families relocate to the island just before the start of a new school year. We have seen a marked trend where overseas tenants are now travelling not just with kids, but with pets too, so we are encouraging landlords to consider accepting pets. In fact, sometimes there are no kids but the pet needs almost as many amenities as a kid so this truly is an important consideration! Pet policies and pet security deposits can be used to mitigate any risks or concerns.
While 4 plus-bedroom homes accounted for just 13% of rentals for the first half of 2019 we see low supply of quality product in this category. Demand for these homes is typically from expat clients willing to spend top dollar for the right home which will allow space for the family, business entertainment and visiting overseas guests.
Unfurnished property tends to have longer periods of vacancy. While furnishing is a large expense for landlords it can be worth it in the long run if done right. We work with a number of suppliers across the market and can assist with recommendations on suppliers to suit the target market.
So there it is - my snapshot of long-term rentals for the first 6 months. Hoping that it supplied some useful insights as knowledge gathering and sharing is part of our DNA and one of the reasons I chose to work with Terra in the first place. Feel free to call me or email me with any questions or comments and look out for my next market review in August.
Contact me if you would like to receive these Market Reviews directly to your in-box.
Betty Cathrow
Real Estate Agent 

 


Mobile: (246) 256-9646
Email: betty.cathrow@terracaribbean.com