Sometimes Children Know Best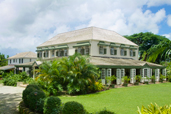 Our children want many things that we have to decline for any number of reasons; maybe they have too much already, or maybe what they want is not good for them. But sometimes, our children know best. And sometimes the simplicity of their requests should be considered.
I found that to be the case during a vacation in 2006. My family was in Barbados, and one of my children asked, "Dad, can we live here?" Initially, I have to be honest, I thought of all the reasons to say no – too difficult to relocate, too far from business epicentres such as New York and London, too expensive, too relaxed, etc. There are always numerous reasons to deny ourselves things that appear to be "too good to be true." We have all been conditioned to toe-the-line, to put our nose to the grindstone, and to adhere to the status quo.
I first fell in love with Barbados in the 1980's when I was stationed here with the Royal Marines, but I hadn't thought to make it our home. What my children gave me that day was a priceless gift: the spark of an idea and the inspiration to go against the grain. I am forever grateful for that watershed moment, as it transformed my quality of life, and freed me to build a new, beautiful life for our family in a place that we all loved. Within two years we were living in Barbados, a beautiful, dynamic, vibrant community that is rich in architecture, idyllic in its landscape, unsurpassed in the quality of its education, and thriving in business and culture.
The Plantation Lifestyle


Perhaps best known for plantation homes, the housing stock in Barbados is exceptional. We are blessed to live in the heart of the island, surrounded by sugar cane fields. For the first time in my life I am raising pigs, chickens, and turkeys. But my true passion is raising bees and harvesting honey. A calming, yet challenging endeavour, I am astounded by the process and grateful that I have the opportunity to experience the life cycle in such an intimate way.
At the same time, the style of the plantation home enables me to keep my office 40 yards from the main house.
The People


Barbadians are a highly educated, entrepreneurial and passionate population. The government of Barbados spends roughly 20% of its annual national budget on education. And it is a worthwhile investment in that the Barbados' literacy rate is ranked close to 100%, placing Barbados among the top 5 countries worldwide for literacy.
My family has found the people of Barbados to be open, generous, and committed to community. A country of savvy technology adapters, more than half of the population (approximately 200,000 people) is on Facebook.
The Opportunity


The Barbados Entrepreneur Foundation, an organisation to which I belong, is an investment project committed to establishing Barbados as the number one entrepreneurial hub in the world by 2020. If you can envision Singapore in the Caribbean you will be able to envision Barbados, less than a decade from now.
With state-of-the-art digital infrastructure in place, Barbados's communications systems are on track to becoming word class. One can stay connected and work from the island as if they were anywhere in the world.
At the same time, the physical infrastructure is top notch, as evidenced by the international airport that has direct service to most prime destinations, which makes it easier than my wife would like, for me to meet the global travel requirements of my position. Furthermore, many leading professional service firms have offices on the Island, making seamless support of your global operation that much easier.
A Good Life


As the CEO of a highly successful, global business execution firm, I can tell you first hand that Barbados is primed and ready for business, and, I can attest to the unsurpassed quality of life. From my experience, Barbados is an excellent place for a global organisation.
Damian grew up in Kenya, where he developed a keen interest in adventure. It was not surprising therefore that he joined the UK Royal Marines where he served for 18 years as a commando. He was recognised a number of times, including an MBE from Her Majesty The Queen, and commendations from allied countries. After achieving two degrees, including a Masters at Kings College London, he moved into business and founded McKinney Rogers in May 1999. Damian applied all of the experiences and knowledge he gained with the Royal Marines and created a premiere global consultancy specialising in business execution.
This article is extracted from The Red Book 2012 - The Pink Pages