Ten Reasons to Love Valley View!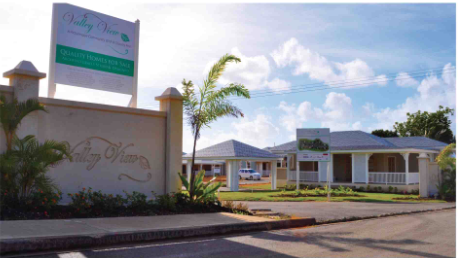 Valley View is the island's newest neighbourhood. Located in Vaucluse, St. Thomas, adjacent to the desirable Countryside neighbourhood, the development features 37 architecturally styled and designed homes set in a cool, convenient location with gorgeous country views. This development is one of the most compelling offers on the market today! Here's why:
Low down payment! For as little as BDS $37,000 down you can own a beautiful 3-bedroom/ 2-bathroom home.
Attractive financing! 95% financing and under 6% interest rate. Valuation fees waived. (Available from CIBC First Caribbean – partnering with Housing Concepts for prequalification)
The best of both worlds! Valley View features gorgeous country views but you are only ten minutes away from the Warrens business area! Enjoy all the conveniences of urban life and then escape to the beautiful and serene countryside.
Quality homes! Five Gillespie & Steel designs are available for purchase each with a spacious open-plan living and dining area, a fully equipped kitchen with granite countertops, Italian cabinetry and General Electric stainless steel appliances.
A completed neighbourhood! Valley View will be completed by yearend. First homeowners will get the opportunity to move in by June. This very short period to completion means you aren't just getting a home, you are getting a complete neighbourhood.
Easy access North, South, West and East! Living in the heart of the island means you are never far away from where you need to go – East Coast picnics, West Coast restaurants, South Coast events, excursions to the North!
Financial security during construction! Valley View does not employ a buyer funded model therefore your money is not needed to start, progress or complete the project; construction is fully funded by the developer. This means there is no risk to you the buyer; the developer is taking all the risk to ensure these homes are completed.
Simple, Convenient & Efficient purchase process! Housing Concepts will pre-qualify you for your loan and send all required information to CIBC First Caribbean (or your bank of choice). All meetings can be arranged at your convenience between 8am and 5pm Monday to Friday (meetings can occur on Saturday if necessary). They will even visit your home or office. All transactions will close within 60 days.
Turnkey Solution! A fully completed quality home. No need to manage construction. Furniture packages are also available so you can move into a fully-furnished home. Brick driveway, tasteful landscaping and a two-car detached garage are quality finishing touches that give these homes real appeal.
Your own parcel of land! No shared ownership or complicated title.

Valley View might be right for you! Interested? Learn more here.