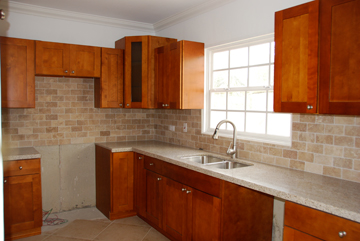 Sunrise at Rowans is a new-gated residential development in Rowans, St. George. The property should be completed later this year, and what we've seen so far looks pretty good!
If you don't know where Rowans is, think Chefette Charles Rowe Bridge, the St. George Parish Church, and Providence Elementary…all of these are a short distance away from the Rowans area. Rowans is one of the most well established residential areas in Barbados and the Sunrise townhouses are in one of the last undeveloped sections of the greater Rowans area.
As for the townhouses, there will be 24 duplex and triplex units once it's all completed. There's also going to be a pool for the community and a central gazebo. Units will feature spacious kitchens with granite counter tops and custom crafted cabinet; as well as marble countertops and custom crafted vanities with Jacuzzi in the master bathrooms. Utilities throughout the development will be underground and each unit will be assigned two parking spaces.
Get more details here and see the attached photos for a peek at how things are coming along at Sunrise at Rowans!